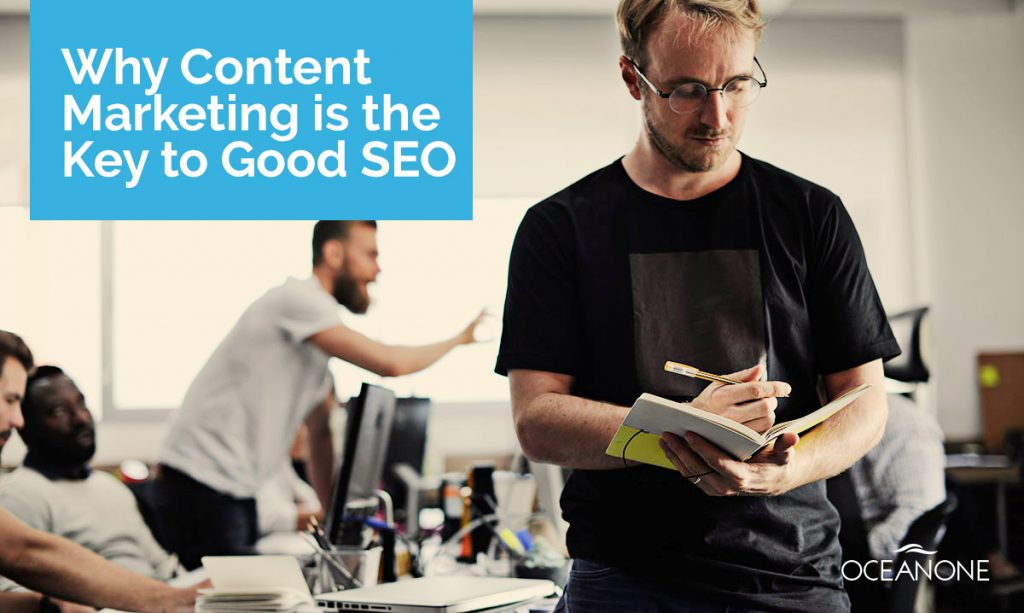 Why Content Marketing is the Key to Good SEO
Updated: March 27, 2021
Good SEO involves many elements. There is the technical audit where you make sure there are no technical problems that prevent your site from ranking. Then there is the whole keyword research and optimization process which is the most important step and beyond the scope of this article. Don't forget about backlinks of course.
Then there is the most powerful aspect of all and that is high-quality content. Stop thinking in terms of 'SEO', 'blogging' and 'social media marketing' as separate things and instead think about your SEO in terms of 'content marketing'.
Think of SEO as a combination of all your marketing strategies – merge them together. You need to remove technical issues first. That is an absolute. Beyond that you need to use all the digital marketing strategies, keyword relevant blog posts, guest posts, social media posts, backlinks, videos and more to really succeed at getting ranked on high in Google searches.
Now "Good SEO" also means writing amazing posts and when you share them you have a better chance of getting more backlinks. That great content will keep people on your page longer – another Google ranking factor. Yes, Google notices how long visitors stay on your page.
Regardless of your strategy, there is no doubt that content is absolutely the most important asset when it comes to attracting traffic and impressing Google.
But just what is content marketing?
Content Marketing – What is it Exactly?
Content marketing is about creating content that will build a readership on your site and ensuring that people begin to hold you as an authority and trust what you have to say. While this is powerful and useful is in its own right, it's actually only one part of what content marketing is about. At the same time, your excellent blog post articles will also help Google make sense of your site, its posts, and its content. This greatly aids organic search.
It means demonstrating your knowledge and point of view. Ultimately, you want people to seek you out as an authority. Once you get to that point, you'll be considered an expert in your field and you'll be able to greatly influence your audience – possibly influencing their buying behaviour. The content doesn't just have to be posts on your blog. Content can be presented in Guest posts, Social media posts, Presentations, Infographics, Case Studies, White Papers/Reports, Ebooks, Email Newsletters, Webinars, Quizzes, Polls, Podcasts, Checklists, Photos and of course Videos.
DOWNLOAD Our Free Content Marketing Planner (In Google Sheets, click FILE > make copy). It has a daily, monthly and archive view as well as a brainstorming tab.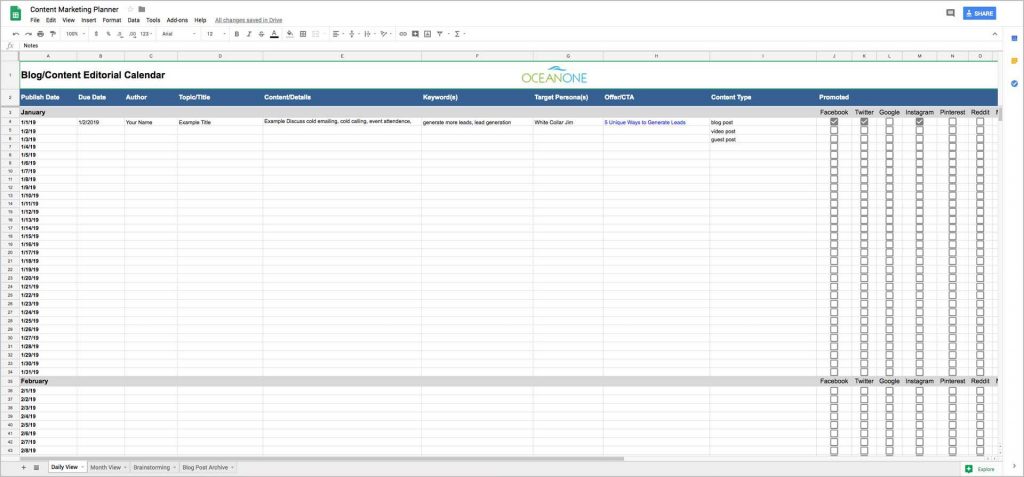 How to Build Trust and Authority with SEO 
So what is the process behind reaching authority? The key is to think about the sites and blogs that have influenced you over the years – the ones you read regularly.
How do you think they did it? This isn't about building trust with Google alone but rather with your readers so that they want to keep coming back. That means delivering value time after time in posts and content.
Each post that you create for your blog should provide highly useful and relevant information that is not fluffy but is actionable.
At the same time, users should be able to see that your site offers something unique compared to competition sites, something which isn't available elsewhere. The differentiation between your sites and others is extremely important, especially in crowded niches. You can't simply follow the pattern of other sites, you need to try and take your own perspectives.
There are hundreds of thousands of posts covering almost everything possible. Offering something different amongst this content mountain may seem like an impossible task but with the infinite opinions of people, you can always find a unique angle to take on even the most run-of-the-mill subjects.
Once you've conceptualized your posts, you should ask yourself: would you read the content?
You also need to be consistent and reliable and always live up to your brand ethos. Make sure you establish a mission statement and objectives and portray these through your content efforts to create a continuous self-branded stream of information.
Always work hard on reflecting your brand with design. Logos and website designs are extremely important. You must remain consistent throughout different forms of marketing on different platforms, including on different forms of social media.
When writing, always bear your reader in mind. This ties into the fact that Good SEO is about making things great for the reader. That way, people can actually get excited about you and will really get behind what you're trying to do!
What's Your SEO Goal?
The immediate goal should be to offer consistent value and to become a source that people start to trust. That way, when someone searches for the answer to a question, they might read your post and be impressed. That leads to more shares, more engagement and better SEO.
If you then repeatedly come up in search results, individuals who were impressed might recognize you and be more likely to click your listing over the rest. Then they might decide to look around the rest of your content after they've been impressed a few times. Eventually, you become their "go-to source" for answers in your niche. Well done: you just won at content marketing!
The key to content marketing is consistency and value. Always deliver good information that is manageable. By doing this, you're working with Google to serve the user and Google are promoting you as they know you are delivering relevant and effective content. It makes sense from both an SEO and business perspective – you want to build trust, reputability and authority alongside a base of repeat users.
After investing a lot of time writing a blog post, you should certainly consider repurposing it. Maybe it would make a good video or slide presentation. Perhaps write a few related post a create an ebook that you can distribute or use for a lead magnet.
While the focus of this post is content marketing and how it relates to SEO there is certainly a lot more you can do. We'll write more about that in future posts. If you need some free tools check out this list of free content creation tools by @lilachbullock .
Needless to say, before you dive deep into content marketing, you need to make sure that you you have optimized your on-site SEO factors. The amazing @Neil Patel recently made that a little easier with his awesome SEO Analyzer which will show you what you need to fix in a few seconds. It provides your overall SEO score and your competitors score. You can check your site speed score, keywords and more. Plus you can download the report as a PDF so you can send it to your webmaster.
Here's a great resource from Guru99 that has a list of the 20 Best Web Analytics Tools to Track Your Website Performance.
If you need help with SEO for your website, checkout our SEO services page.
Also check out our recent post "10 MUST-KNOW SEO TIPS TO BOOST YOUR SEARCH RANKINGS"