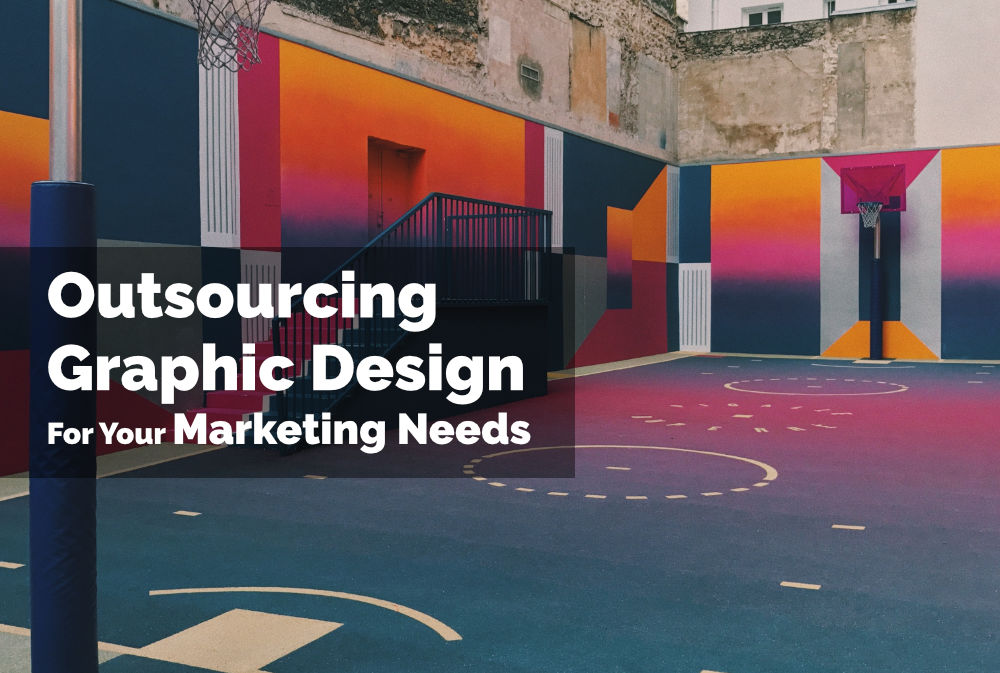 Outsourcing Graphic Design for Your Marketing Needs
Today, there's an intense and growing demand for quality marketing content. Many companies are overwhelmed with the time that's required to produce their own content, and are looking for a more cost-effective way to get the job done.
Outsourcing graphic design is an effective way to leverage the power of attention-grabbing visuals and keep up with the demands to compete online and offline.
If you find your company in this position, we've gathered some ideas to help you stay ahead of the curve and decide if outsourcing your graphic design needs makes sense for your company.
Leverage the Expertise of Experienced Designers That Are Too Expensive to Hire Full-time
If you don't have design experts in-house, you should consider outsourcing your graphic design needs.
Try outsourcing a single project and compare it to what gets done in-house. You might be amazed at the difference. Then again, you might not be but it's a good due diligence strategy to help you analyze and assess the quality level of your in-house marketing assets.
Getting multiple iterations of a design project will help you by getting you to stand back and take a good look. See the possibilities and make an informed decision by publishing multiple versions and see which designs get more attention and engagement.
Getting a Fresh Perspective Can Be An Eye Opener
There's a lot of thought and skill that goes into designing a strong marketing asset like a brochure. And it's important to have someone who understands the importance of marketing materials in order to create designs that resonate with your target audience.
For example, when creating a brochure for an audience in the fitness industry, you may want the design to reflect movement and athleticism.
This is something a graphic designer will be able to do for you because they understand what it takes to create the sense of motion in a printed piece.
The Design Thinking Approach
A trained modern designer uses Design Thinking, an approach that seeks to understand the problem(s) before looking for solutions. By doing so, a designer looks at the problems that the consumer faces and researches to gain an understanding of what they go through and the other things they may have tried.
This helps to deliver a more powerful design solution that communicates a message that evokes emotion and connection to the solution you are offering.
Focus on Marketing Strategy and Outsource the Creative
Marketing must be a strategic process that aligns with your business goals. Yes, you want your marketing to look good, but you need it to be functional and effective, too.
You can outsource the visual design of your marketing materials by hiring a professional graphic designer.
However, it's important to remember that you should still have control over how this person works on the project.
For example, if you want to create a new marketing campaign for social media platforms like Facebook, Instagram or Twitter, ask for the designer's recommendations first.
They should suggest creative ideas and offer tips on what will work best in an online environment. Then, you can provide feedback and request revisions as needed until you're satisfied with the final product.
Get an Outsider's Perspective of your Business
One of the best advantages of outsourcing your design or marketing is that you can instantly get a fresh perspective from an outsider who is an expert. The new ideas that come can lead to remarkable changes to the company's brand and growth.
Focus on what you do best and outsource the rest and you not only feel less pressure but you'll get results that would not have been possible otherwise.
Your business needs all of its employees working towards one goal: growth. It's hard for companies to find people who are skilled in all aspects of marketing when they will likely only need one or two people who are skilled in the specific area they want focused on.
Segmenting your team can help them become more productive and efficient—and it can also help you afford their services!
Finally, you can save money by outsourcing your design or marketing your company will be able to benefit from the expertise of talented designers without any long-term commitments.
Many organizations have a Director of Marketing but outsource the creative production. This as a great model for many companies because they have one key person who is focused developing effective marketing strategies and then they outsource the creative and technical tasks.
This helps by tapping into expert help on an as needed basis.
If you run a few ongoing marketing campaigns in a year, it doesn't make sense to hire full-time graphic designers or CRO specialists and the like.
They might just sit around doing nothing a lot of the time if you don't have projects for them. You won't like that and neither will they.
Outsourcing these tasks will be far more effective because you will get experts who will do top-notch work and likely over-deliver because they will want to impress you so that you will hire them again. It's a win-win situation.
Build Your Brand Consistently
It's important to develop a strong, unified brand that your target audience can recognize. When you use outsourcing as your go-to graphic design resource, it allows you to create a consistent branding strategy for all of your marketing materials.
Your brand is the foundation for everything you do in marketing. It's what draws people in and builds credibility over time.
One way to ensure that your brand remains consistent is by designating one company or individual to take on the responsibility of overseeing your marketing collateral.
By outsourcing graphic design needs, you have an opportunity to build and keep your brand fresh and up-to-date.
When you outsource graphic design content, you open yourself up to a larger pool of potential designers. This can lead to increased creativity when it comes to designing new designs for your company's content.
This is because the more options you have, the greater chance there is of coming up with something truly unique.
With outsourcing, businesses experience higher levels of creativity while also being able to maintain their unified branding strategy through consistency across all marketing channels.
Outsource the Skills That You Don't Have In-house
One of the best ways to leverage the power of content marketing is by presenting your company as an authority in its field. To do this, you need quality visuals that will convey the message you want to send.
Hiring a full-time professional graphic designer to create these images is expensive, time-consuming and difficult. Not only do graphic designers need time to research your industry and design concepts for your website, they also need time to create all the different versions of your logo, flyers and social media banners. This can take weeks or months before you have any tangible outputs.
If you don't have a staff member with these skills or are unwilling or unable to outsource these services in-house, it might be worth considering outsourcing graphic design externally. It will help to produce marketing content more efficiently and effectively.
Conclusion
Graphic design is an essential part of marketing. It sets the tone for all of your marketing collateral and is the first impression for many people. But hiring a full-time designer can be expensive, and you may not have the bandwidth to handle all of your design needs.
There are many reasons to outsource your graphic design needs, but most importantly it frees up your time to focus on your marketing strategy and creates consistency across your brand.
It's always a good idea to get a few quotes so you know whether you are getting a good price. You'll also want to see if you connect on a personal level so be sure to reach out to a few Web Design Companies.
By outsourcing to a reliable company you'll be able to take advantage of the expertise of experienced designers that are very expensive to hire full-time. Graphic designers are responsible for designing marketing materials like logos, banners, brochures, business cards, social graphics, email marketing templates and more.
———
OCEANONE Design has been delivering quality graphic design services to some clients for over 10 years. Clients know they can count on us to deliver every single time.
We guarantee your satisfaction. Try us out for free!