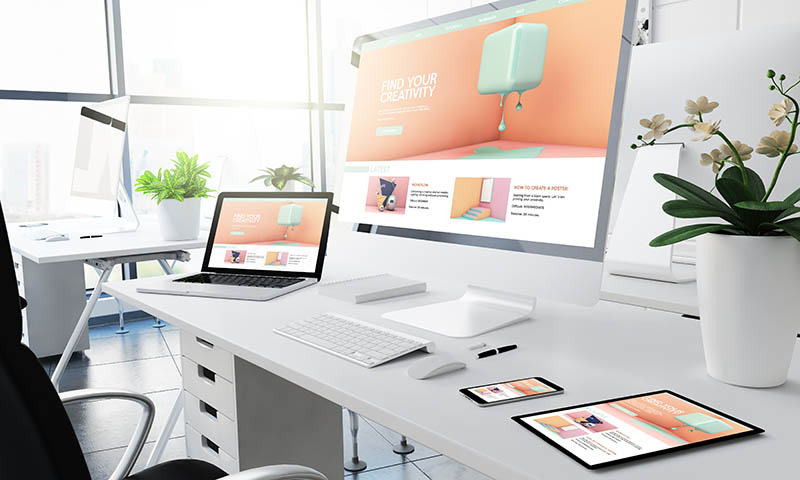 12 Best Web Design Tips for Building a Local Business Website
Updated May 11, 2021
Every company, no matter what size, needs to have a professional looking website. It can be overwhelming to those who have not gone through the process before. It is essential for your business so whether you intend to develop a website in-house or outsource it, gaining a good in-depth understanding of what's important from the web design and technical perspectives is certainly worth your time.
Getting a small company site can be among the greatest obstacles that small company owners need to deal with. The job ends up being a lot harder as the choices are seemingly endless and the expenses can easily getting out of control. The web designer needs to be able to produce a website that is not only aesthetically pleasing but can drive significant and appropriate traffic to your organization to produce more leads or sales and decrease the issues that users commonly experience like slow load times, broken links, poor mobile experience etc. The possible technical problems are extensive. We won't go into depth here but just be aware, your designer needs to be experienced or you could be in for some real unforeseen headaches.
So, let's get into our top 12 suggestions to rock your local business website.
1. Simple but Elegant Web Design
A small company website design needs to be basic yet visually appealing. It represents your business and should therefore make a great first impression. It's your online store front so make sure the shelves are clean there's no letters missing on the sign LOL. Your website absolutely must convey that your company is trustworthy and professional. People instinctively pass judgement in about one second give this some attention. Get a few designs done and get feedback from people before you launch the website.
2. Check Out the Competition
We always recommend that our clients have a good look at what other successful competitors are doing with their web design. One should not just look at the site but really think about what is appealing about it. Then like magic, you will likely start to realize what the website is lacking and you'll start to come up with ideas to beat your competition by doing it better.
3. Don't Go Overboard on Style and Content
Complex style can overwhelm your audience and don't over do the amount of text – at least on the home page. There is a temptation to please Google with a lot of text but you need to be strategic about.
One of the best strategies, which will also increase engagement, is to put an excerpt of a given topic and require the viewer to continue reading by clicking through to another page. Sidenote – this will help your "bounce rate" which is counted when someone comes to your website and doesn't click on anything. An uncluttered overall style communicates professionalism.
Focus on web design that will give your visitors a great user experience.
4. Make it Easy for Google
An uncluttered website, clear material, appropriate URLs, sitemap, and pertinent keywords will enable online search engine like Google to index your small company site with ease. Website design for small company must consist of at least minimal SEO optimization.
Getting listed in Google My Business so that you can show up on Google maps on a local search is also essential.
Our web platform of choice is WordPress for many reasons and it's Google friendliness is among the top reasons. You get a great selection of amazing SEO plugins to choose from like Yoast SEO or our new favorite "Rank Math"
5. Mobile Friendly Web Design
After Google's statement of mobile-first index, it would be practically self-sabotaging not to have your local business website be responsive. This simply suggests that your website will adjust and reorganize the page layout when seen on mobile phones. A simple explanation would be that your multi-column page layout will re-flow into a single column layout. That may make it sound simple but sometimes you can spend many hours making sure that all your pages look good on all sizes of phones, tablets, laptops and desktop computers.
Making a website mobile friendly can be quite daunting and there are many tools available to help with the process. One of the tools we like to use that gives us a quick preview of how a page will look on multiple devices at once is Responsinator.
6. Optimize for Incoming Leads
One of the most crucial functions of any small company site is to concentrate on the incoming leads and capture as numerous as possible. Normally prior to buying an item individuals like to do a preliminary research study and contrast, and might not be all set to purchase right away. Put some effort into finding ways to obtain your visitor's email address. This way you can follow up with them or retarget them with ads so that if they are not ready to buy now maybe they will be later. Sometimes popups work for getting people to give you their email but it is becoming less effective. Popup Maker is a good Popup Plugin for WordPress that's easy to use. One of the best strategies is to give away something, like a useful information, in exchange for their email.  You don't want to irritate people so don't be too aggressive with this.
We recently discovered a powerful new pop builder tool from Adoric.  It has Machine learning features, Interactive templates and tons of other features like Email collections, lead generation, content promotion and more. It's an excellent solution for marketing leads and Conversion Rate Optimization.
7. Keep your contact information in Plain Sight
This might seem obvious however this oversight happens all the time. Your telephone number and e-mail address need to be shown plainly on the site and, if possible, at the top and bottom of every page. Develop a 'CONTACT' page at the end that includes not simply the contact numbers however e-mail address, physical address of the business, and a map, together with instructions to and hours of operation of your business. Make sure it gets done and you can forget about it.
8. Professional Branding is a Must
Concentrate on communicating expertise and be consistent about it. Developing a brand strategy will help you get control of this. A solid brand strategy will keep On track by providing you with a roadmap for consistent usage of messaging and the appearance of all your imagery etc. Your brand is it just your logo it is the overall feeling that people get when they interact with your company. Our company can help you with developing your brand, read more about brand strategy here.  Once you have your branding in place just be consistent with all your fonts and graphics.
9. Style Should be Simple but Distinct
Whether you are developing your site by yourself or working with a small company website design business, your objective must be to produce a site that shows your brand name. The impression is the most crucial and will either draw in or fend off audiences. If you utilize any ordinary design template and your site looks like countless others on the web, you will never ever have the ability to make a lasting impression in your audience's mind.
A bad home page could cause visitors to bounce immediately. The home page  is extremely important so pay a lot of attention to getting that right and it will help to set the tone for the rest of the website.
Visitors expect a smooth easy navigation that can take them from Point A to Point B flawlessly so make sure you give that to them. Make your website work for you, not against you. A basic, easy to use, and tidy website design without unneeded gimmicks is the strategy for success. You can experiment with gimmicks later but build something solid first.
10. Showcase Products and Services Beautifully
Several small company website designs are not able to display their items successfully or they overload it with too many product or services on one page and mess it up. Keep in mind that you just have of a couple of seconds to win or lose a possible customer so work on making an irresistible first impression. If you are a business selling items online then the item images and descriptions ought to be crisp and concise. If you have a fantastic website design but don't display your products or services well, there's a good chance your visitors will move on to look somewhere else. NextGen Gallery is a nice plugin for displaying images in different types of gallery styles.
11. Fast Page Load Time
Viewers get restless if a website takes excessive time to load. Guarantee that your small company website design has the best server facilities and bandwidth to support it. A website that is rich with graphics and photos can take a long time to load. There are many tools and techniques to reduce the page load time and it is certainly worth the time and effort to address this right away. A good caching plugin can go along way to help and it's fairly easy to implement. One caching plugin we use regularly is W3 Total Cache
12. Relevant, Quality Page Content
Last however not the least is the importance of the content on your local business website. This is a significant factor in getting indexed by online search engines. The more relevant your material, the simpler it is for online search engine to discover and index your website. Content relevance will play a major role in attracting the right visitors to your website. Headings are extremely important in letting your readers and Google quickly understand what the content is about so pay close attention to all your headings.
Research study reveals that there are more mobile users than desktop users now which is why it is vital to have a company site that loads quickly and presents a pleasant mobile experience. Google also uses page speed as a crucial ranking factor. According to specialists, a small company website should less than 3 seconds to fully load. The Google Page Speed Tool is an excellent way to find out if your website passes the test.
The absence of a good website can adversely affect your company. Without a site you might loose business to your competitors. For someone to purchase a product or service from a company they don't already know is a big leap. They will usually want to know and see more about your company before committing. Always keep that in mind and it will help guide you to build a platform to showcase your company in a way that will make people feel comfortable with the idea of being your customer.
Extra Web Design Tips!
Index Your Website
Search engines such as Google, Bing and others search for particular elements to help them determine where your site should rank in a search result. There are actually over 200 ranking factors in the Google algorithm but some of the most important are Page Title, headings, structure, quality of material, keywords, URLs and sitemap. Pay attention to these to get the ranking you deserve. Check out the Google Webmaster Guidelines to understand what you must do to boost your search ranking.
There are several things to setup when you want to get into tracking all of your online activities. You'll need Google Analytics, Google Console, Facebook Pixel and more. There is a great plugin called Site Kit by Google that makes things easier to get setup is a real time-saver.
Keep Your Website Safe
It's truly mind boggling to know how many sites get hacked every day. There are bots just going at it all the time – it's insane and thinking about it too much cold make you crazy.
There are solutions. First implement a backup strategy so that in case your security does fail, you will always have an up-to-date backup so your site won't be down for long. For this we recommend a plugin called UpDraft Plus.
Now for the security, there are 2 plugins that I like to use. Wordfence and Sucuri are both excellent options and easy to setup.
We hope that the suggestions above will assist you in your web design process to build a successful Local Business Website.
OCEANONE Design offer a full range of design and marketing services so get in touch with us if you need help.
We were voted in the Top Digital Agencies Of 2020 according to DesignRush